Complete Chinese Buddhist Funeral Service & Packages
Our roots are in Chinese Buddhist funeral. Call our funeral directors for professional advice on procedures and practices – it's free of charge. We advocate sincere, honest engagements.
Funeral package
6681 5757 (24-hr)
The Eternity Chinese Buddhist funeral service adheres to the religion's core beliefs in reincarnation and the effects of karma on rebirth. Under the coordination of our competent funeral director, the entire process will run smoothly and serenely to reflect the fact that death is natural and inevitable.
When you acquire our Chinese Buddhist funeral package, you can be assured it's complete and value for your money. Our funeral services are kept in-house so that affordability and quality are guaranteed – before, during, and after the funeral.
In planning the Buddhist funeral for your loved one, we'll listen carefully to your wishes and how you believe the deceased would want to progress towards their rebirth.
Our family would like to express our heartfelt gratitude to Eternity Funeral services.
We are sincerely grateful to everyone in the team who has rendered assistance to us during the funeral of my father. We are very impressed with the efficiency and arrangements which was made immediately after we inform the team about my father's passing away.
Not to mention that, Eforce always explains and guides me patiently on the details of the stuff which needs to be done. Thank you for going the extra mile, ensuring that my queries are being answered 24/7.
We really appreciate the excellent service provided. Thanks for coming by every day to make sure that things are well organized and even ensuring our well-being for me and my mother.
We thank you for the kindness and the support which was given by you and your team. Without Eternity funeral service, we would be at a loss as we were going thru a difficult time. Thumbs up for the professionalism from your team.
Lastly, our deepest thank you. For everything.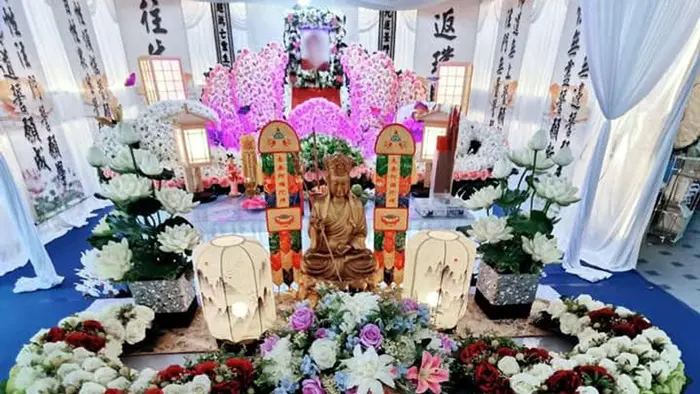 3-day Standard HDB void deck Chinese Buddhist funeral package

We only provide complete packages. We advocate transparency – we do not practise omitting key items so as to make the package appear cheap.
If you wish to extend the duration of the wake or upgrade certain items, like hearse or coffin, you can view the optional upgrades by clicking "Upgrade Available".
Note: Pricing for wake held at a funeral parlour or landed residential property differs because tentage configuration and setup vary. Contact us for cost estimate.

Standard Buddhist Funeral Package
S$13,888
View our complete package
PREPARATION
Booking of cremation slot at Mandai Crematorium
Professional embalming, dressing, cosmetising, and casketing of deceased
PROFESSIONAL SERVICES
Collection of deceased from hospital, hospice, or house
Transportation of deceased to our secured site for cleaning
Transportation of casketed deceased to HDB void deck where wake is to be held (Note: We'll advise you on the procedure for HDB void deck booking.)
Full professional service team, including pallbearer team, on day of funeral
Collection of deceased's ashes from crematorium
On-site supervision and coordination services led by funeral consultant throughout the funeral
CASKET
TENTAGE SETUP
16 feet x 16 feet enclosure with canvas on 4 sides – 1 set
Square tables – 15 units
Round tables – 10 units
Chairs – 100 units
Electrical fans – 6 units
Electrical lighting – 1 set
Mobile toilet – 1 unit
Refrigerator – 1 unit
FUNERAL/MEMORIAL HALL SETUP
Funeral backdrop – 1 set (Upgrade Available)
Curtains and carpet at funeral/memorial hall – 1 set
Standard decorations – 1 set
ALTAR SETUP
11 inches x 13 inches floral photo wreath – 1 unit
Decorative flowers for deceased's altar – 2 bouquets
Buddha statue
Decorative lights – 1 set
PHOTOS & PHOTO FRAME
10 inches x 12 inches enlarged photo with wooden frame – 1 set
Passport-sized photos – 6 pieces
MEMORIAL STATION SETUP
BUDDHIST PRAYER SERVICES
Encoffining ceremony, led by 1 experienced Buddhist monk
Final-night prayer session, led by 1 experienced Buddhist monk
Funeral-day prayer sessions, led by 1 experienced Buddhist monk
VEGETARIAN FOOD OFFERING
Fruit offering for Buddha – 1 set
Food offering during prayer sessions (encoffining, final night, and funeral day) – total of 3 sets
REFRESHMENTS & SUPPLIES
Buddhist blanket, pillow, pearl, and other ceremonial items
Mineral water – 5 cartons
Packet drinks – 5 cartons
Snacks, including peanuts and sweets
Supplies, including red packets, toilet rolls, and plastic bags
TRANSPORT
Standard glass hearse (1-way) (Upgrade Available)
45-seater air-con bus (round-trip) – 1 unit
OPTIONAL ITEMS
Wake extension – S$500 per day
Food catering service
Additional refreshments and supplies
Paper replicas
Live band
Photography and videography service
Premium packages are also available. Prices range S$16,888 – S$27,888. Contact us to find out more.
Eternity Funeral Service will treat your loved one with utmost respect. We'll ensure the experience you and your family have with us is truly pleasant.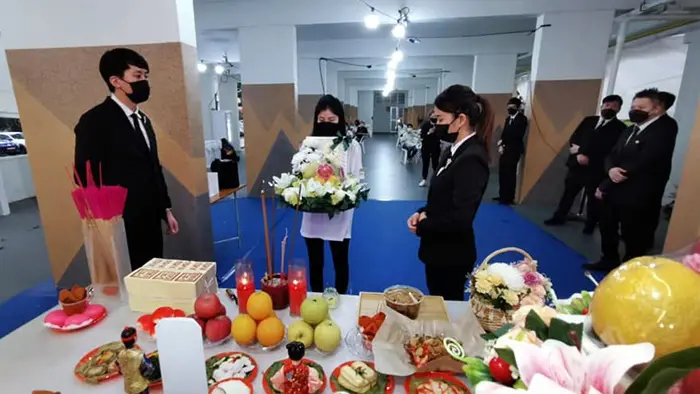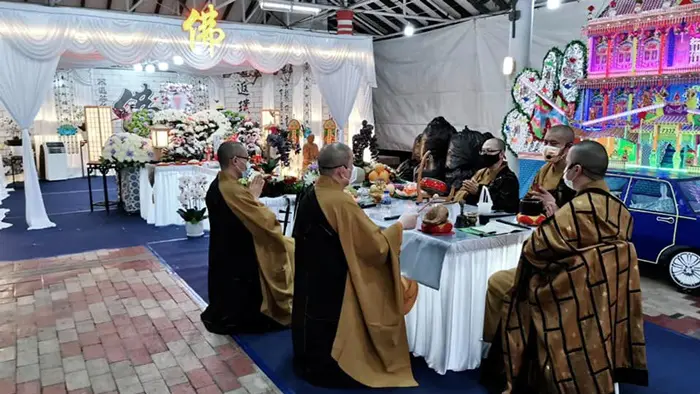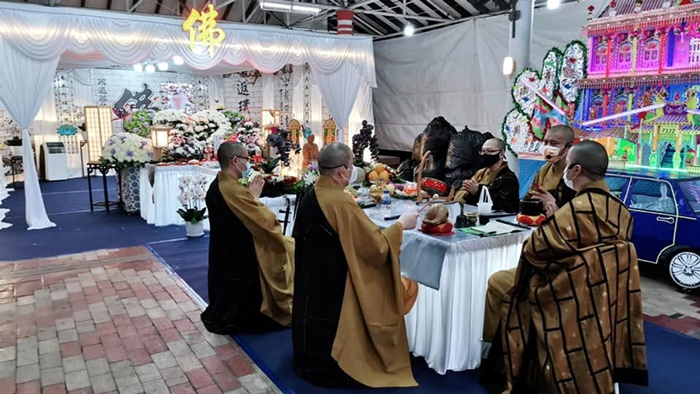 Eternity Chinese Buddhist funeral service
Monks play a central role in the Buddhist funeral service. They would lead family and friends in the chanting of sutras (religious teachings) in the name of the deceased and, in an enlightenment ceremony, prepare the soul for the afterlife. This is why we'll ensure the monks we engage for the funeral of your loved one has adequate and the right experience.
Buddhist funeral ritual typically takes the following format:
Casketing or encoffining.
Enlightenment ceremony.
Funeral day service.
Cremation or burial service.
Installation of ancestral tablet.
Ashes collection or sea burial if applicable.
Further ancestral tablet prayers.
Chinese funerals in Singapore are often held within Buddhist communities. Buddhist funerals usually last 49 days, in the belief that the consciousness takes at least this time to journey from one life to the next. The first 7 days of the funeral are the most important.
Eternity Funeral Service can cover the whole process.
Services on the day of the funeral
Eternity Funeral Service will ensure the funeral day runs as smoothly as all the other funeral arrangements. We do this by:
Arranging the prayer services.
Organising pall bearers and ushers.
Engaging an experienced monk to lead the chanting ceremonies.
Arriving early to make sure the funeral decorations are perfect. We'll also help you to clear up afterwards.
Organising the send-off ceremony after the funeral service, including traffic marshalling for the funeral cortege
Supervision of cremation or burial service.
We can then go ahead with post-funeral service plans according to your wishes.
When you acquire Eternity Buddhist funeral service and package, you can be assured we'll do our utmost to ensure your loved one would embark on a smooth journey to the afterlife.
Contact us now.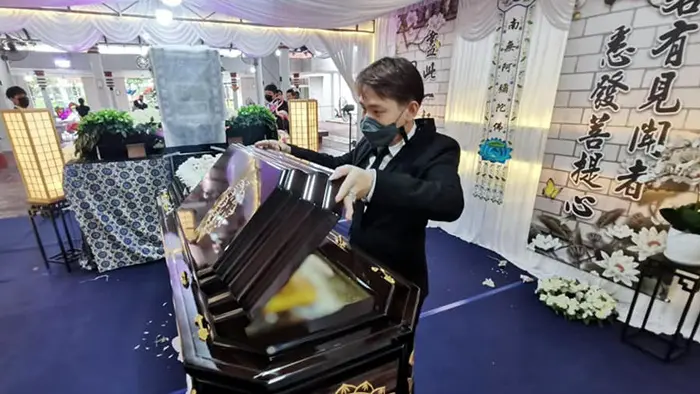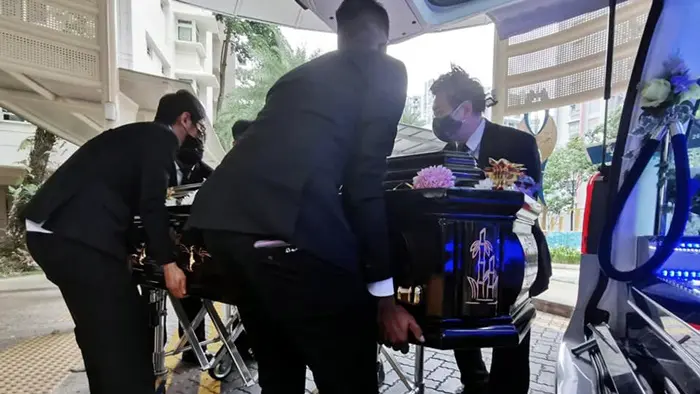 39 Woodlands Close
#02-49 Mega@Woodlands
Singapore 737856