Post-funeral Services
We too believe in what goes around, comes around. This is why we advocate sincere, honest engagements. Go ahead, call and ask our funeral directors for advice.
Funeral services
6681 5757 (24-hr)
Eternity Funeral Service provides competitively-priced post-funeral services that families of the deceased can rely on for sympathetic professionalism.
We can make the arrangements for all aspects of ceremonial remembrance rites as you continue to mourn your loved one.
Our one-stop post-funeral resources also include added-value features that save you money as well as offering a high level of convenience – benefits you'll rarely find with other undertakers.
Experienced Eternity Funeral Service funeral directors are capable of managing post-funeral services for most major religions in Singapore and would cater for freethinker, non-religious memorial observances. These services include: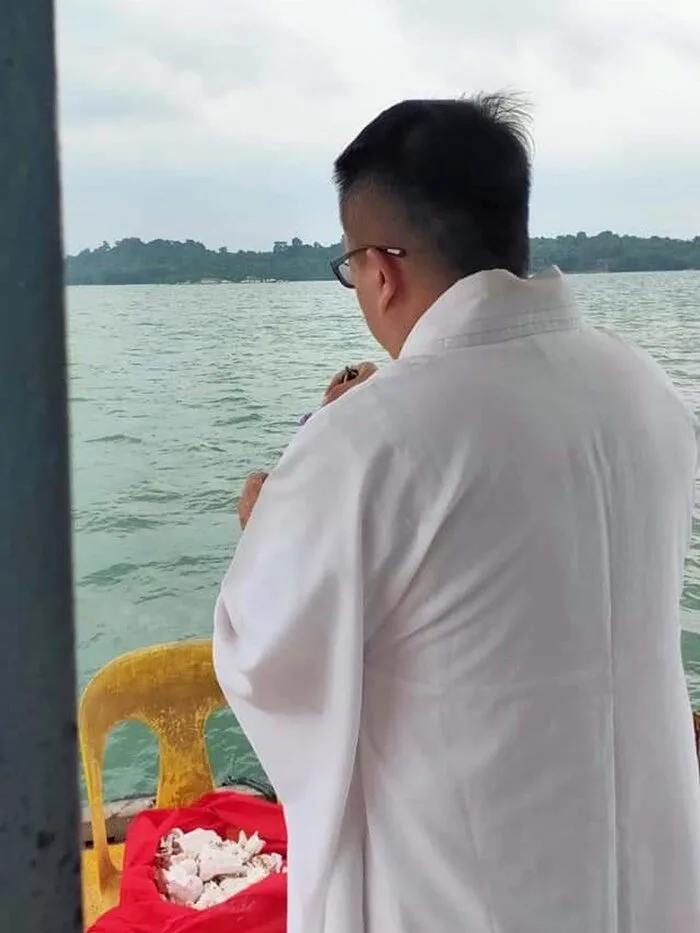 Sea burial ceremony
Sea burials following cremation have become more common in Singapore, particularly if the deceased had a special connection with the sea.
Anyone can be buried at sea, and no permit is needed. There are no particular rules for the ceremony, which is simply carried out according to the wishes of the deceased and family.
A sea burial can be non-religious or based on religious beliefs. For instance, a Buddhist sea burial may include chanting and prayers by monks, while a Christian ceremony could include a minister to read a scripture or eulogy.
In a traditional sea burial, the ashes of the deceased are scattered into the sea, although biodegradable urns are now available.
An official site for sea burial ceremonies has been designated near Pulau Semakau by the Maritime Port Authority (MPA). And a new sea burial facility, that caters to ash scattering from land, is being built in Tanah Merah.
Eternity Funeral Service provides comprehensive post-cremation sea burial services, including:
Collection of ashes and arranging transport to the seashore.
Chartering a boat and coordinating memorial/prayer services.
Conducting the sea burial ceremony.
49-day post-funeral services

Buddhist and Taoist funeral services typically continue for 49 days as family members pray and do charitable deeds to earn merits for the guidance of the deceased's soul along the path to a new rebirth. It's believed it takes 49 days for the consciousness to migrate from this life to the next.
Eternity Funeral Service provides all the services necessary to allow your family to help the deceased's transition throughout the 49 days, including:
Custody service for the ancestral tablet, including offering two meals a day to the deceased. Usually, the family has to search for a temple to provide the ancestral tablet service. Eternity saves you this hassle – we partner an appropriate place of worship so that the 49-day ritual will be carried out reliably.
Coordinating optional prayer services on every seventh day, including engaging a monk or priest.
On the 49th day, we'll:
Organise the Ancestral Tablet Moving Ceremony to relocate the tablet from the holding place to the final resting place – either a temple or the home of the family.
Engage a monk or priest for the ceremony.
Provide food offering services and organise joss paper offerings.
100th-day funeral ceremony

After the 49-day period of funeral rites, mourning may continue for the family for 100 days – until the final departure of the deceased's soul from this world.
100th-day services provided by Eternity Funeral Service include:
Organising prayers at the columbarium where the ashes are held or at the cemetery burial site.
Engaging the monk or priest.
Providing joss paper and food offerings.
Eternity Funeral Service will treat your loved one with utmost respect. We'll ensure the experience you and your family have with us is truly pleasant.
Gong Teck (功德) ceremony

Gong Teck (功德 or Kong Teck) is a Buddhist or Taoist grand ceremony to celebrate the peaceful passing of the deceased, clear of illness, onto the next phase of life; it's done in show of deep respect and gratitude for the deceased. It can take place on the 49th day, 100th day, and 1 year or 3 years after the funeral.
High-ranking priests or monks would be hired for chanting of mantras not only to lift the sufferings endured by the deceased, but also lessen the hardships faced by wandering spirits. Merits are thus gathered for the ancestors, which would in turn benefit the lives of the descendants.
Besides a generous amount of food offering present, lavish paper replicas such as an elaborate 2- or 3-storey mansion, a stylish car, gold and silver mountains, clothes, and bags of folded joss paper representing gold and silver ingots are burnt for the deceased to use in the afterlife.
Eternity Funeral Service can meet all your needs for a Gong Teck ceremony, including services such as:
Preplanning of the ritual, taking into account your budget, religion and dialect group, family size, and appropriate dates.
Acquire a suitable space large enough to accommodate the Grand Prayer Altar and ceremonial items for prayers, extra-large paper houses, gold and silver mountains, other paper replicas, and attendees.
Engaging monks or priests.
Food offering services and joss paper offerings.
Coordination of moving the paper house to the burning site, and transport of family to the burning location.
Taking the ancestral tablet back to its original site.
A simple Gong Teck ritual can be performed in a HDB void deck, while an elaborate one is typically carried out in an open field with a marquee.
Ancestral tablet prayers

Chinese Buddhists and Taoists accord special reverence to family ancestors, grounded in the belief that the spirits of those who have died continue to influence the world of the living.
A sacred ancestral tablet is an important symbol that allows ongoing respect to be paid to the deceased in the form of prayers for their soul.
Ancestral tablet prayers are performed on ritual occasions such as:
Ancestral tablet moving.
Ancestral tablet installation.
Anniversaries of the death.
Traditional Chinese festivals.
Every seventh day after death up to the seventh-seventh day (49 days).
Services provided by Eternity Funeral Service to facilitate ancestral tablet prayers include:
Engaging the monk or priest.
Providing food offering services and joss paper offerings.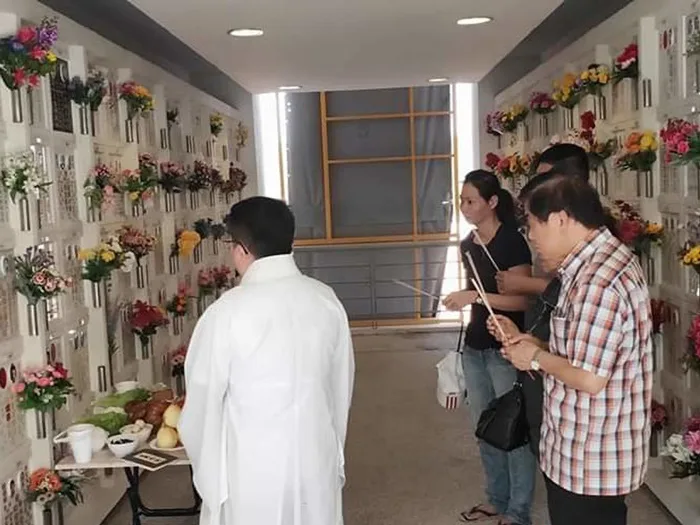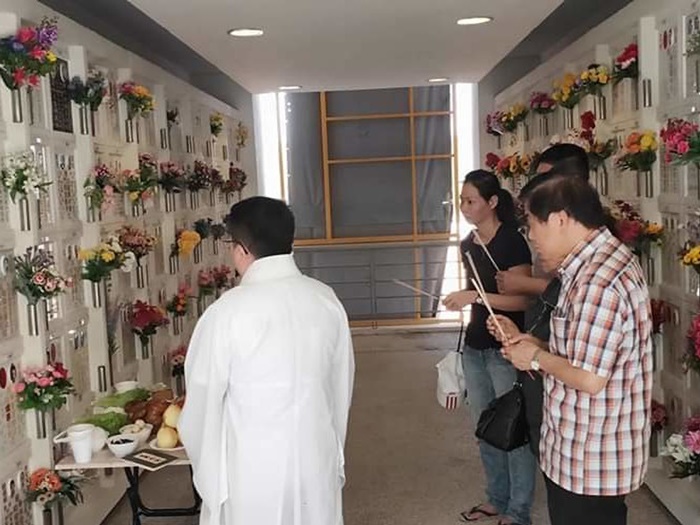 Prayers at columbarium
A columbarium is a special place in Buddhist and Taoist religions designed to display cremation urns as a celebration of the life of the deceased and provide a focal point for ancestral worship and filial piety.
Prayers at a columbarium are usually performed on the 100th day after death or during the annual Ching Ming Festival (Qingming Festival or Tomb-sweeping Day).
Services provided by Eternity Funeral Service in connection with columbarium prayers include:
Provision of urns.
Marble plaque carving and gravestone manufacture.
Organising prayer ceremonies.
Engaging the monk or priest.
Food offering services and joss paper offerings.
Memorial services

Eternity Funeral Service can provide support resources for memorial services.
These occasions typically take place weeks after the funeral. They're far more relaxed than the funeral service, with greater participation from attendees and more focus on celebrating the life of the departed.
We also offer support services for remembrance observances after non-religious funerals.
Advantages of Eternity post-funeral services

Eternity Funeral Service offers reliable, affordable post-funeral services that allow your family to honour their loved one in a dignified manner without having to worry about the practicalities of the numerous arrangements that need to be made.
We're able to keep our prices down because we get the materials for our post-funeral services from our own distribution company which cuts out the middle man.
As well as affordability, we pride ourselves on offering post-funeral services that provide maximum convenience for our clients. For instance, our 49-day service saves families the hassle of having to find another provider or a temple to arrange the custody ceremony for the ancestral tablet.
Eternity has established a strong reputation across all areas of funeral services, including post-funeral rituals, based on our core values of:
Professionalism
Compassion
Dependability
Integrity
Contact us now.