Complete Freethinker Funeral Service & Packages
We advocate sincere, honest engagements. Call our funeral directors for professional advice on procedures and practices – free of charge, no strings attached.
Funeral package
6681 5757 (24-hr)
The Eternity funeral service takes great care to ensure freethinker funerals are carried out in compliance with the departed's lifestyle and personality, and the specific wishes of the family.
Our freethinker funeral package can be customised to:
Reflect the individuality of the departed.
Respect their perspective and views.
Give family and friends the opportunity to celebrate the significance of the deceased's life.
Our celebrations of life are designed to offer all the comfort and meaningfulness of a traditional funeral, with none of the religious trappings.
Because a freethinker funeral omits the standard rites and rituals of religious funerals, it can take any format you want as you pay your last respects to your loved one.
As with all our different types of funeral services, our freethinker funerals include value-added services – such as sea burial – you may not get from other undertakers. This saves you the inconvenience and extra cost of having to look elsewhere.
3-day Standard HDB void deck freethinker funeral package

We only have 1 standard, complete package. We advocate transparency – we do not practise omitting key items so as to make the package appear cheap.
If you wish to extend the duration of the wake or upgrade certain items, like hearse or coffin, you can view the optional upgrades by clicking "Upgrade Available".
Note: Pricing for wake held at a funeral parlour or landed residential property differs because tentage configuration and setup vary. Contact us for cost estimate.
Standard Freethinker Funeral Package
S$9,000
View our complete package
PREPARATION
Booking of cremation slot at Mandai Crematorium
Professional embalming, dressing, cosmetising, and casketing of deceased
PROFESSIONAL SERVICES
Collection of deceased from hospital, hospice, or house
Transportation of deceased to our secured site for cleaning
Transportation of casketed deceased to HDB void deck where wake is to be held (Note: We'll advise you on the procedure for HDB void deck booking.)
Full professional service team, including pallbearer team, on day of funeral
Collection of deceased's ashes from crematorium
On-site supervision and coordination services led by funeral consultant throughout the funeral
CASKET/COFFIN
TENTAGE SETUP
16 feet x 16 feet enclosure with canvas on 4 sides – 1 set
Square tables – 15 units
Round tables – 10 units
Chairs – 100 units
Electrical fans – 6 units
Electrical lighting – 1 set
Mobile toilet – 1 unit
Refrigerator – 1 unit
FUNERAL/MEMORIAL HALL SETUP
Funeral backdrop – 1 set
Curtains and carpet at funeral/memorial hall – 1 set
Standard decorations – 1 set
ALTAR SETUP
11 inches x 13 inches floral photo wreath – 1 unit
Decorative flowers for deceased's altar – 2 bouquets
PHOTOS & PHOTO FRAME
10 inches x 12 inches enlarged photo with wooden frame – 1 set
Passport-sized photos – 6 pieces
MEMORIAL STATION SETUP
REFRESHMENTS & SUPPLIES
Mineral water – 5 cartons
Packet drinks – 5 cartons
Snacks, including peanuts and sweets
Supplies, including red packets, toilet rolls, and plastic bags
TRANSPORT
Standard glass hearse (1-way) (Upgrade Available)
45-seater air-con bus (round-trip) – 1 unit
OPTIONAL ITEMS
Wake extension – S$500 per day
Food catering service
Additional refreshments and supplies
Casket spray
Photography and videography service
Premium packages are also available. Prices range S$11,000 – S$13,000. Contact us to find out more.
Eternity Funeral Service will treat your loved one with utmost respect. We'll ensure the experience you and your family have with us is truly pleasant.
Eternity non-religious funeral service

Non-religious funerals are usually led by one of our funeral directors and celebrant. He or she would guide guests through the proceedings much like a priest or minister would for a Christian funeral service.
A basic format similar to the following can serve as a good starting point from which to customise a non-religious funeral:
Music plays as the service opens.
The celebrant welcomes guests and reflects on the meaning of life and death.
The celebrant or a close family member pays tribute to the deceased.
Friends and family give readings.
A moment's silence to reflect on the departed.
The coffin is taken away.
The celebrant makes some closing remarks and thanks guests for their attendance.
Music plays as guests leave.
In Singapore, other than a funeral parlour or on the deceased's landed property, a non-religious funeral can also take place in the HDB (Housing & Development Board) communal void deck beneath the deceased's block of apartments. This can also be the location for a wake or memorial service.
What if the deceased was an agnostic?

Non-religious funerals are commonplace following the death of an atheist or a humanist – who reject the concept of a god – but what should you do if your deceased family member was an agnostic who doubted the existence of a deity rather than firmly believed there was no such thing?
Eternity Funeral Service can also come to your assistance in cases like this, or in other circumstances if the departed has left it to the family to make the funeral arrangements of their choice.
If you choose to hold a religious funeral service, we're also experienced in organising:
Catholic funeral services

Other Christian funeral services
The comprehensive freethinker funeral package of Eternity Funeral Service will coordinate all aspects of organising the funeral of your loved one in-house.
This not only streamlines the whole process but allows you to save on costs as we avoid involvement by middle men. We can also save you up to 20% on funeral supplies such as decorations, refreshments for guests, and rental of chiller and mobile toilet.
Our empathetic funeral directors, experienced in non-religious funerals, can help bereaved relatives by shouldering the burden of the practicalities of organising the funeral to allow them more space to begin the grieving process.
Contact us now.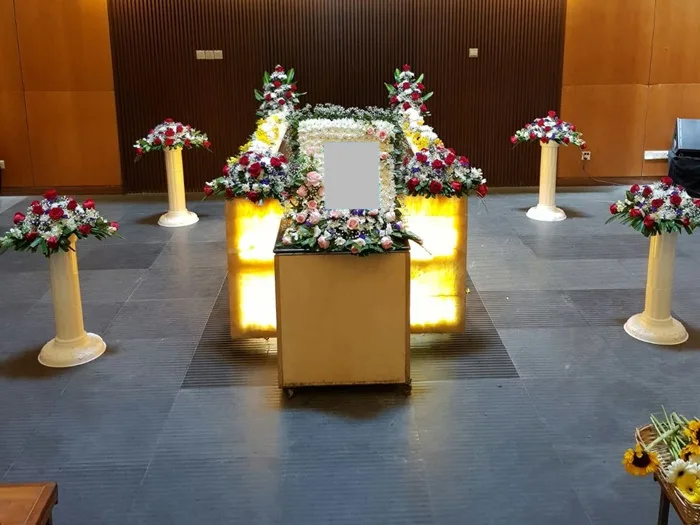 39 Woodlands Close
#02-49 Mega@Woodlands
Singapore 737856