Complete Christian Funeral Service & Packages
We advocate sincere, honest engagements. Call our funeral directors for professional advice on procedures and practices – free of charge, no strings attached.
Funeral package
6681 5757 (24-hr)
The Eternity Christian funeral service recognises the importance in Christian funerals of helping to invoke the hope believers share in Jesus Christ and eternal peace in heaven.
With the aid of a proficient minister or priest, our service focuses mainly on the deceased's entry into heaven and God's compassion in giving mourners the fortitude to cope with their loss.
Our funeral packages offer value-added funeral services – that include post-funeral support resources – you'll find difficult to get from other funeral companies.
What's more, by keeping the entire funeral process in-house, we can guarantee a comprehensive, quality service – before, during, and after the funeral – while maintaining affordable pricing.
As you can see, Eternity Funeral Service provides a one-stop, streamlined funeral solution so you can focus on paying your respects to the deceased and pray for their soul without the hindrance of having to worry about the practicalities of the funeral arrangements.
3-day Standard HDB void deck Christian funeral package

We only have 1 standard, complete package. We advocate transparency – we do not practise omitting key items so as to make the package appear cheap.
If you wish to extend the duration of the wake or upgrade certain items, like hearse or coffin, you can view the optional upgrades by clicking "Upgrade Available".
Note: Pricing for wake held at a funeral parlour or landed residential property differs because tentage configuration and setup vary. Contact us for cost estimate.

Standard Christian Funeral Package
S$10,888
View our complete package
PREPARATION
Booking of cremation slot at Mandai Crematorium
Professional embalming, dressing, cosmetising, and casketing of deceased
PROFESSIONAL SERVICES
Collection of deceased from hospital, hospice, or house
Transportation of deceased to our secured site for cleaning
Transportation of casketed deceased to HDB void deck where wake is to be held (Note: We'll advise you on the procedure for HDB void deck booking.)
Full professional service team, including pallbearer team, on day of funeral
Collection of deceased's ashes from crematorium
On-site supervision and coordination services led by funeral consultant throughout the funeral
CASKET/COFFIN
TENTAGE SETUP
16 feet x 16 feet enclosure with canvas on 4 sides – 1 set
Square tables – 15 units
Round tables – 10 units
Chairs – 100 units
Electrical fans – 6 units
Electrical lighting – 1 set
Mobile toilet – 1 unit
Refrigerator – 1 unit
Sound system – 1 set
FUNERAL/MEMORIAL HALL SETUP
Funeral backdrop – 1 set
Curtains and carpet at funeral/memorial hall – 1 set
Standard decorations – 1 set
ALTAR SETUP
Floral photo frame – 1 unit
Decorative flowers for deceased's altar – 1 set
PHOTOS & PHOTO FRAME
10 inches x 12 inches enlarged photo with wooden frame – 1 set
Passport-sized photos – 6 pieces
MEMORIAL STATION SETUP
REFRESHMENTS & SUPPLIES
Mineral water – 5 cartons
Packet drinks – 5 cartons
Snacks, including peanuts and sweets
Supplies, including red packets, toilet rolls, and plastic bags
TRANSPORT
Standard glass hearse (1-way) (Upgrade Available)
45-seater air-con bus (round-trip) – 1 unit
OPTIONAL ITEMS
Wake extension – S$500 per day
Food catering service
Additional refreshments and supplies
Casket spray
Photography and videography service
Premium packages are also available. Prices range S$12,888 – S$21,888. Contact us to find out more.
Eternity Funeral Service will treat your loved one with utmost respect. We'll ensure the experience you and your family have with us is truly pleasant.
Eternity Christian funeral service

Our typical Christian funeral service includes:
Opening of the service with a reading from the scriptures by the minister or priest – typically based on "I am the resurrection and the life, saith the Lord".
Prayers and hymns.
Sermon, verses from the Old or New Testament, and a psalm from the Bible – often Psalm 23, "The Lord is My Shepherd".
Reflection on the deceased's life by the minister or priest.
Further scripture readings, prayers, and hymns.
Eulogy by a family member or close friend (except in Catholic funerals).
A minute's silence to honour the departed.
Closing words by the minister or priest.
Procession to the committal.
Role of the wake in Christian funerals

A social gathering associated with death, a wake is often held ahead of a Christian funeral service to give friends and family the opportunity to pay their respects to the deceased while consoling one another – the funeral service itself doesn't provide a platform for casual interaction between the bereaved.

The wake can be held in the home of the departed or at the funeral hall or another location. In Singapore, funeral wakes often take place in HDB (Housing & Development Board) communal void deck areas beneath the block of flats where the deceased lived.
We'll help to ensure you get ample opportunity to honour your loved one and pray for their soul, while providing support and empathy in the aftermath of your loss.
Christian memorial services

If you wish to hold a memorial service after the funeral to bring family and friends of the deceased together in support and remembrance, we can assist you in organising the affair.
Like a wake, a memorial service is far less formal and structured than the funeral service itself, with a stronger emphasis on a celebration of life.
Whereas the role of attendees at the funeral service is largely restricted to observance and reflection, the memorial service generally allows for each guest to participate to some extent.
Our competent funeral director can guide your bereaved family through the entire Christian funeral process with sympathetic compassion during this extremely emotionally stressful time.
We'll enable your family to say goodbye to their loved one with the solemnity and dignity they deserve, in accordance with the beliefs and traditions of the Christian faith.
Contact us now.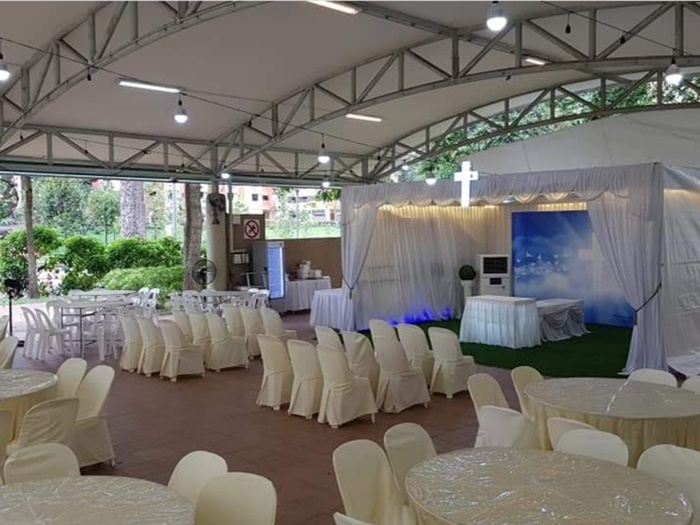 39 Woodlands Close
#02-49 Mega@Woodlands
Singapore 737856